Guchen Connector Guide: 5 Most Used HV Connector Types in EV
Abstract:
1.
HV Low Current Connector
2.
HV High Current Connector
3.
Pass-through Connector
4.
MSD Connector
5.
Charging Connector
---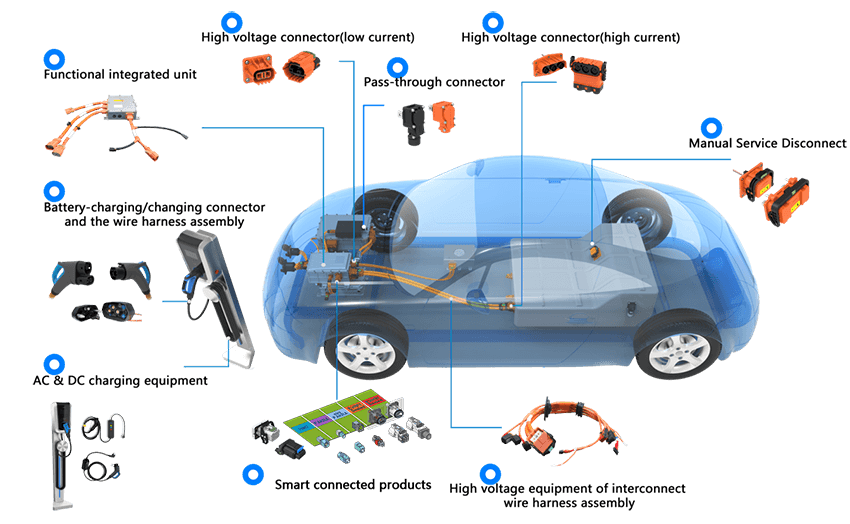 High voltage connectors
can be classified into different categories, based on their intended application, function and environment. When choosing a connector, it is important to consider the electrical needs, insulation and use. Depending on your needs, different types of high voltage connectors can be equipped with shielded or unshielded cables. While
HV shielded cables
prevent electromagnetic interference, unshielded cables are mostly used for network cabling. Custom modular, resistant, panel mounted or in-line connectors can be modified to suit the specific application.
---
The HV low current connector is the most popular type of connector in the world. It's used by many manufacturers as a generic term to describe any EV connector that can handle up to 80 Amps. This type of connector is actually made of two different types of connectors: a male plug and a female socket. They are mated together, and form a circuit that allows power to flow between the two HV equipment inside an EV.
The main applications of low current connectors in electric vehicle:
◆Used for power connection of auxiliary charging port, PTC heater, and air conditioner;
◆For current transmission of HV components like electric motor and PDU;
◆Used for lead wire of EV charging socket;
◆For low-speed vehicle power circuit connection.
Related Products:
GC-MC20 20A HV Low Current Metal Connector
GC-DXC1 20A Plastic HVIL Connector
Low current connectors are available in both plastic and metal shells with various pin counts and wire sizes.
--The pin count is the number of pins in the male or female connector.
--The wire size refers to the cross-sectional area of the copper conductor used in the connector. It's measured in American Wire Gauge (AWG) which is a standardized system used to measure electrical conductors. The larger the AWG number, the smaller the cross-sectional area of the conductor.
There are also high current connectors that can handle up to 400 Amps or higher. These types of connectors are usually made for 16mm², 25mm², 35mm², 50mm², 70mm², and 95 mm² cables. Therefore, they are typically used by the interconnection of
EV high voltage components (such as PDU, battery pack and electric motor)
that require a higher amount of current.
Features of high current connector:
◆ Customizable service
◆ It has color error prevention and multiple coding positions, IP67 protection level, making a more reliable connection.
◆ The connector has the characteristics of fast and convenient locking. Locking and unlocking operations take up little space, easy to operate.
◆ The connector comes with a male plug and female socket, which makes it easy to connect and disconnect from the power source.
◆ Serialization and regularization: high current connectors ranging from 80A-400A, covering a wide range, easy for users to select models, and easy to realize mass production.
◆ The design adds structures such as finger-proof, touch-safe and separate sealing of the socket.
◆ With high-voltage interlocking, shielding, waterproof and other functions, it is suitable for strong electrical connections of motor controllers, PDUs, batteries and other equipment.
◆ Both straight and right-angle connectors are available. The right-angle connector is easy to make high voltage wiring harnesses, because there is no need to bend the cables.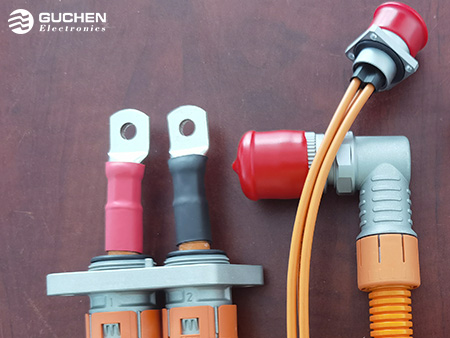 Related Reading:
Benefits of Using Right-angle HV Cable Connector
This type of connector is commonly used by electric vehicles due to its high safety standards and reliability.
Pass-through connector can be replaced as Cable gland. It is used as a Cable fixed head in electric vehicle. It helps efficiently lay and arrange the high voltage cables in the narrow space of electric vehicle chassis.
Application of pass-through connector:
◆ Used for the DC input of the motor controller of the electric passenger vehicles. The other end of the power cable is connected to the PDU.
◆ Used for the wire outlet protection of electric vehicle electrical components, and is suitable for 2.5/4/16/25/35/50 mm² cables.
◆ Suitable for large and small current electrical connections between high-voltage equipment inside new energy vehicles.
◆ Used for electric energy output, input and distribution of battery box of electric vehicles.
◆ Suitable for power distribution boxes, motors, motor controllers, PDUs, batteries and other power connections.
◆ Used between the PDU and the DC-DC converter, as an output conversion connector of DC-DC.
Features of pass-through connector:
◆ Prevent wire harness from moving and anti-rotation function.
◆ With shielding, sealing and other functions to prevent live operation.
◆ It has the characteristics of low cost, convenient installation, reliable performance, long service life, 360º shielding, and IP67/IP68 protection after installation.
◆ It can reduce the procedures and materials for corrugated pipes, and reduce the impact of condensation in the box.
◆ Fast installation, easy disassembly, fixed by screws, reliable connection and convenient operation.
Related Products:
1-way pass-through connector
3-way pass-through connector
---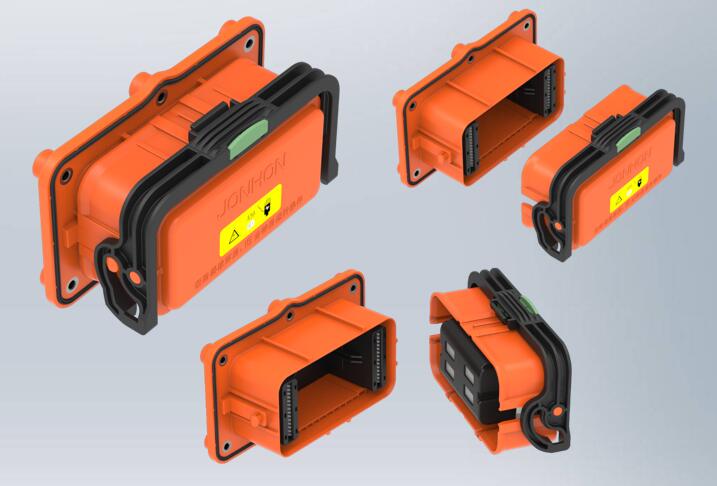 Jonhon MSD Connectors
Manual Service Disconnect (MSD) Connector is designed to connect and disconnect the HV battery pack during repair, maintenance and inspection process. It is used to disconnect the motor voltage, control current and power supply when performing vehicle maintenance in order to ensure the safety of maintenance personnel.
Composition
: MSD assembly includes: socket (contact copper bar, interlock device), plug (fuse or copper bar, interlock device) and seals.
Main function of MSD connector
: to prevent accidental contact with live parts when maintenance work is being performed on electric vehicles or batteries, to provide an emergency disconnection function, when there is a problem in the entire power battery system.
Application
: The MSD can be used on various types of electric vehicles where a high-voltage disconnect is required, such as passenger cars, commercial vehicles, forklifts, construction equipment etc.
5. Charging Connector
Electric vehicles use charging connectors to connect their batteries to external power sources such as outlet sockets or charging stations. The charging connectors are designed to withstand high temperatures and vibrations while maintaining a high level of conductivity between the battery and its charger.
There are actually several different types of charging connectors used in different parts of the world.
AC Charging Connector Types
◆ SAE Type 1 J1772 Connector
: The J1772 is by far the most common electric vehicle AC charging connector type in the US, Canada and Japan. The connector has five pins: two main pins for power, one main pin for ground, and the other two smaller pins for safety and communication. It is compatible with Level 1 or Level 2 charging stations, charging at up to 80 amps. You can find J1772 charging stations at most gas stations and shopping centers where there are electric vehicle charging stations installed.
◆ GB/T Connector:
GB/T was developed by China's State Grid Corporation to help facilitate the use of electric vehicles across China's vast network of electricity networks.
◆ Type 2 Connector
: Type 2 connectors are usually found on the European market, and they have a larger connector head. This type of connector is also referred to as Mennekes, but it is not compatible with Type 1 connectors. It incorporates a locking mechanism to ensure that the charger and vehicle are properly connected.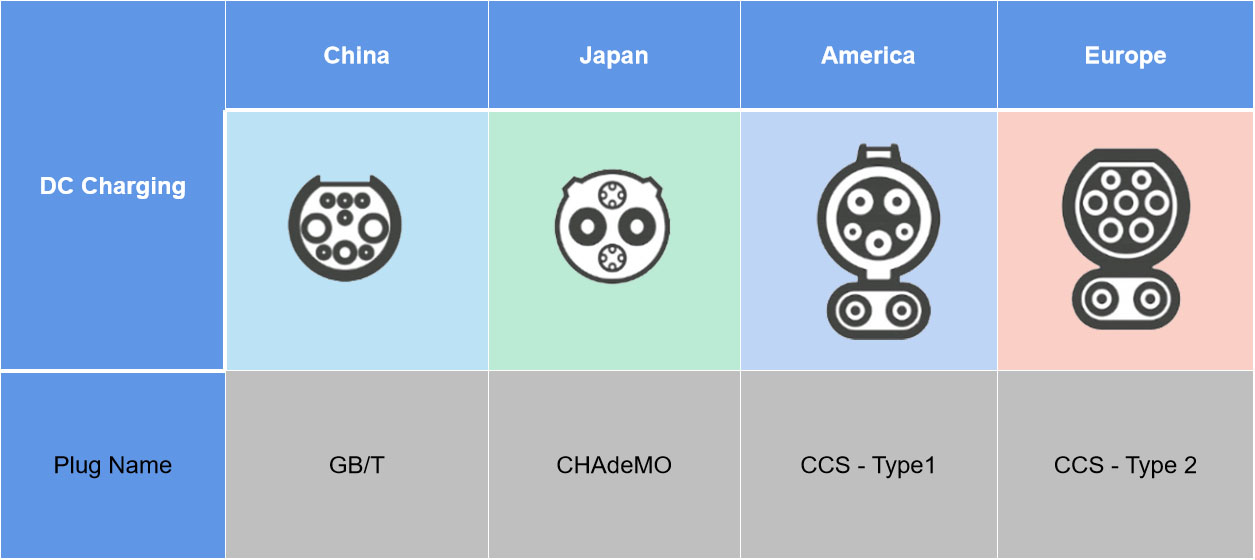 DC Charging Connector Types
◆ GB/T Connector
: The GB/T connector is a Chinese standard for DC charging. It is currently used by BYD and other automakers in China. It can charge at up to 250 kW.
◆ CHAdeMO
: CHAdeMO (Charge de Move) is an abbreviation for "CHArge de MOve", which comes from English words Charge and Move. The CHAdeMO DC Charging connector is used in Japan for high-power DC Fast Charging. It supports up to 50 kW of power delivery and can charge a car from 0% - 80% in 30 minutes or less!
◆ CCS1 Connector
: The most common DC charging connector is the CCS1 (Combined Charging Standard 1). The CCS1 connector is used in North America and it can deliver up to 350 kw and up to 350 amps of current. It is an extension of the J1772 standard AC charging connector, which is used for level 2 charging.
◆ CCS2 Connector
: The Combo 2-in-1 Charging Connector is a combination of AC/DC charging ports on one side. They are available in 60A to 200A. This type of connector is usually deployed at home or public charging stations that support DC Fast Charging (DCFC).
◆ Tesla Supercharger
: The Tesla Supercharger is a proprietary direct current fast charging (DCFC) network for Tesla vehicles. It is a proprietary system designed, built and installed by Tesla Inc., using a 480-volt three-phase AC source that can deliver up to around 170 kW of power to the car, depending on location.
If you are interested in our products, please fill in the message form below. Our sales representative will contact you within 24 hours.