High Voltage Battery Energy Storage Connector
Introduction:
The energy storage system connector is an important link between battery modules. It is also a key component for ensuring the safety of the device, increasing its reliability and extending its service life.
There are mainly 2 types of battery module connectors in the market, including:
1) Battery Pole Connector, Front Connection Technology

2) Bus Bar Connector, Rear Connection

--structure

--quick-plug
The most flexible, quick and cost-effective type of BESS connectors is battery-pole connector with quick plug technology. In recent years, the 360° quick-plug connector have been widely applied in renewable energy systems such as solar panels and wind turbines because they are easy to use and save time when connecting or disconnecting cables from the modular energy storage system.

Copper busbar connectors are made of technologically advanced materials such as silver plated copper contacts, nylon shell, and silicone rubber sealing. They can be used to connect batteries to the system in order to store energy when it is available, and then release it when required by the user. The connectors can also be used to connect multiple batteries together in order to increase their capacity and power output.
Function: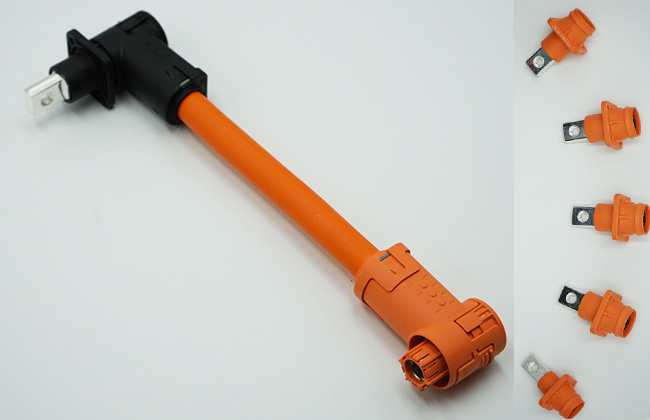 In order to store electricity produced from renewable sources, batteries are commonly used as an alternative way to store electricity from solar panels or wind turbines. In addition, batteries can be used as an alternative way to store electricity from hydroelectric power plants. The main function of a battery energy storage connector is to connect the batteries with the inverter or charge controller.
Features:
1) Energy storage connectors must be able to withstand heavy-duty mechanical stresses, such as those caused by vibrations, shocks and impact. They must also be able to operate under extreme temperatures and withstand corrosive environments.
2) Correct positioning of the connectors and contact surfaces prevents short circuits and overloads during installation.
3) Specific mechanical coding for each system allows for quick and safe identification of the connector type.
4) Battery storage connectors should be designed specifically for safe and security purpose and that meet all safety standards and regulations.
Applications:
Energy storage connectors provide a safe, reliable and efficient connection between energy storage systems and other electrical devices. They are used in home storage system, solar power generation and wind turbines to transfer electricity from the battery to the power grid or vice versa.
---
To ensure the safety of your BESS, you need to consider everything from your battery type and size to the connection technology used to connect it to the grid.



If you are interested in our products, please fill in the message form below. Our sales representative will contact you within 24 hours.