Benefits of Using Right-angle HV Cable Connector
The
high voltage connectors
can be used in a wide variety of applications including automotive, energy storage system, and industrial equipment. Among them, the automotive market is one of the most demanding industries for connectors, so automotive connectors must be able to withstand extreme conditions and harsh environments. Besides that, space is a premium in electric vehicle applications, therefore limited space is a major concern for connectors.
Right-angle connectors are engineered for use in situations where space is limited.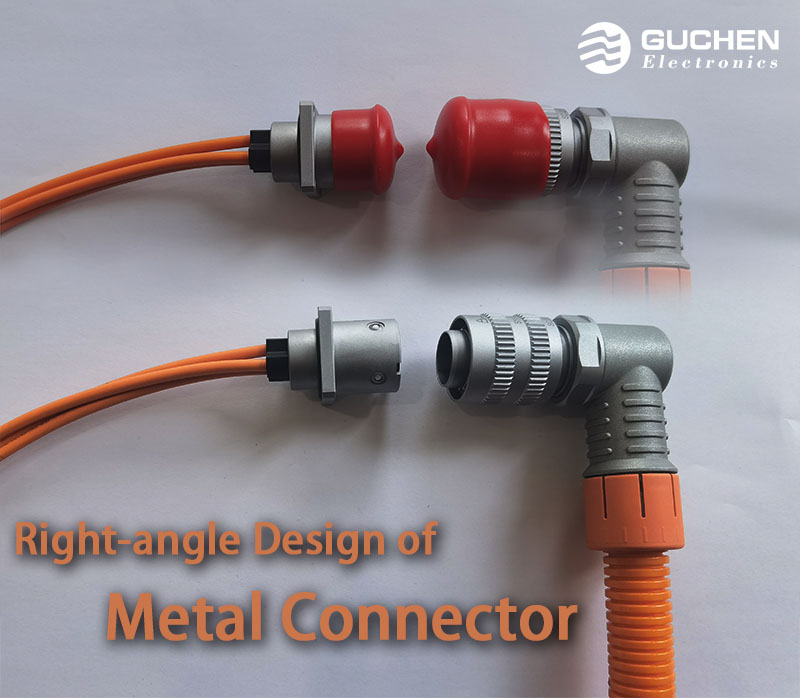 The
right-angle metal connector
supplied by Guchen Electronics (model No.: GC-MC20) is composed of two sections: a right-angle plug and a mating socket. This special design leads to a more compact design that reduces space requirements, improves ergonomics and simplifies installation. Guchen GC-MC20 right angle connector is designed to provide excellent performance in high voltage EV applications. It can handle up to 1000V DC at rated current ratings of 20 Amps, making it suitable for both low-power applications.
The use of right-angle connectors in HV cabling is becoming more prevalent as a result of the need for high voltage cables that can be installed within small spaces. However, there are many other benefits associated with using right-angle connectors.
The following are some of the benefits of using right-angle interconnects:
◆ Optimal solution for in-line and extension cable interconnects
The angled design of right-angle HV cable connectors helps to reduce the risk of damage to the connector during installation or in use. This is because there are no sharp edges on the connector which means no risk of damaging other components that may be nearby. The angled design also makes it easier to insert into a receptacle and reduces stress on both the cable and connector during operation.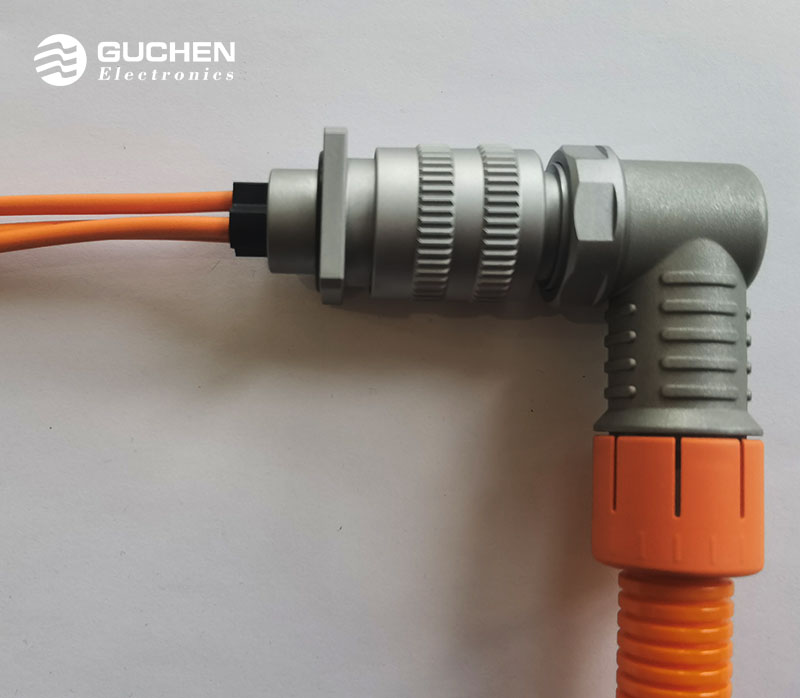 ◆ Avoidance of obstruction by adjacent installed power connectors
The right-angle design delivers better accessibility for maintenance purposes. The extended length of the connector can be used to provide access to equipment not otherwise accessible without having to move or remove another installed power connector.
◆ Reduced space occupied by the connector
The right-angle connector has a 90° bend at the end of the cable, which helps reduce space occupied by the connector. This is especially useful when connecting to components that are mounted close together on a board or in a stack.
◆ Provides increased clearance over conventional connectors
The extended length of the connector allows for an increased distance from the backplane or other installed power connectors. This provides more room for more efficient cable routing and easier installation.
◆ Custom Made
The right-angle interconnects are manufactured using high quality materials that ensure durability and long lasting performance. These metal connectors are available in various sizes and configurations as per client's requirements.
If you are interested in our products, please fill in the message form below. Our sales representative will contact you within 24 hours.