Custom U-V-W 3-Phase Motor Controller Wire Harness for EV Makers
The inverter, also known as motor controller, converts the direct current (DC) coming from your battery into alternating current (AC). The AC then feeds an AC motor and makes it run. A 3-phase inverter wire harness is a special kind of wire harness that can be used to connect your electric vehicle's inverter to the motor.
Inverter Wiring Harness with Pass-through Connector
A 3-phase inverter wire harness will come in a variety of different lengths and configurations. Generally speaking, the complete wiring harness consists of the following components: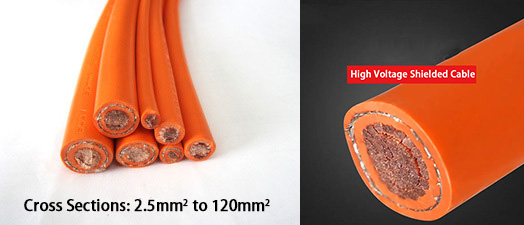 1) High voltage copper wire
They are generally made of
high voltage copper cables
, which is the preferred conductor for the purpose of electricity transportation, because it can conduct electricity over long distances. HV copper cable also has the added benefit of being somewhat flexible, which makes it easy to work with when installing your own inverter system.
High voltage cable is one of the most important components in any 3-phase wire harness, with a wide cross section range from 2.5mm2 to 120mm2. If you have a high current load then you'll need some cables with large cross sections like 70mm2, 95mm2, that can handle large amounts of current without overheating or burning out.
2) High voltage pass-through connector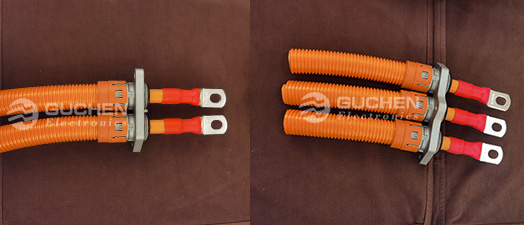 The most common type of inverter wiring harness available is one that comes with a
three-way pass through connector
on the inverter end or with three
one-way pass-through connectors
on the integrated motor controller. The connector mounts directly to the inverter surface using screws. This allows you to use one connector for all three phases (U, V, W) of the inverter wire harness, which makes for cleaner installation and easier wiring.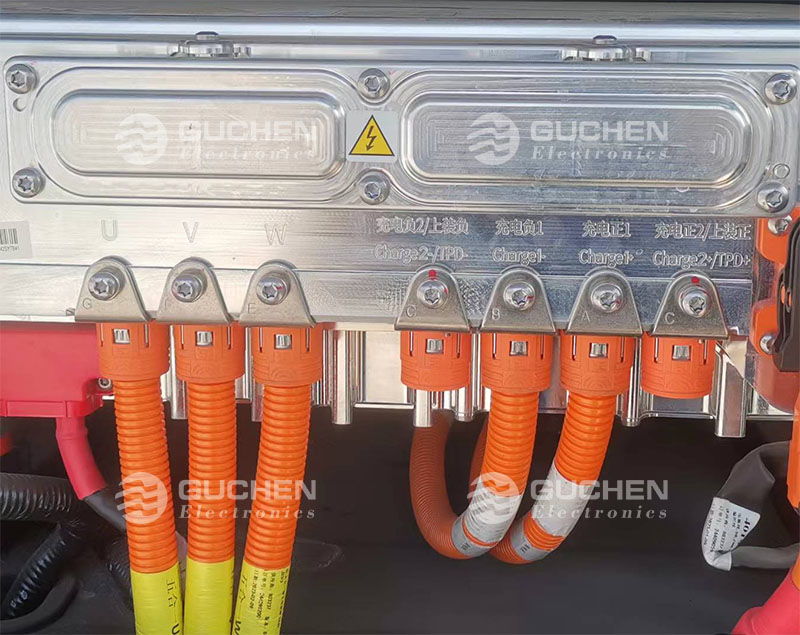 3) Crimp Terminal
A terminal , a component in which the wire ends, is a metal connection point for connecting all of these different components together in a single unit. It provides a reliable connection point for
all of EV components
and ensures that they remain in place at all times so that they can function properly without causing any damage to other components or causing any accidents due to loose connections. These terminals require crimping tools and crimping dies to ensure proper connections are made without damaging either end of the wire being crimped onto them.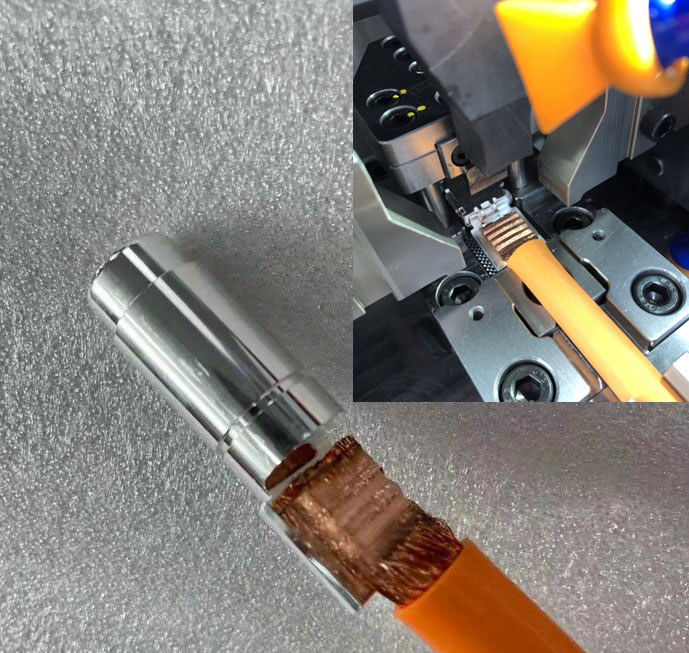 Terminals with crimps - Crimp terminals are used when you need to connect wires directly into the terminal without using any connectors or solder. Crimp terminals have a hole in each end that allows you to push the ends of two wires together until they snap together. This type of terminal is most commonly used on inverter wiring harness, battery cables or other applications.
4) Heat shrink tube
Heat shrink tube is a great way to add strength and
protection to the wiring harness of your electric vehicle
. It is used in many applications such as automotive, industrial, aerospace, marine and military. Heat shrink tubing is a type of specially formulated polyolefin plastic that is typically used for insulation and protection of wires and cables.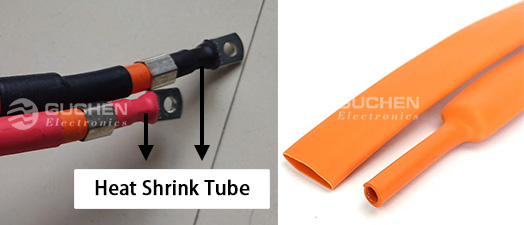 The benefits of heat shrink tubing are numerous:
◆ It reduces wire movement and wear from vibrations
◆ It acts as an insulator against heat or cold
◆ It can be cut or shaped into any desired length, making it ideal for custom applications.
◆ It adds strength to weak areas of your wiring harness
◆ It provides moisture resistance and protection against corrosion.
5) Corrugated pipe
Corrugated tube is a widely used material in electric vehicle wiring harness. It plays an important role in the external protection of wire harnesses. It can effectively prevent the wires from being broken and damaged by external force, providing excellent protection for the wires. Its main features are good wear resistance, flame retardant, acid and alkali resistance, high temperature resistance up to 150 degrees Celsius, and a certain degree of flexibility and good distortion resistance.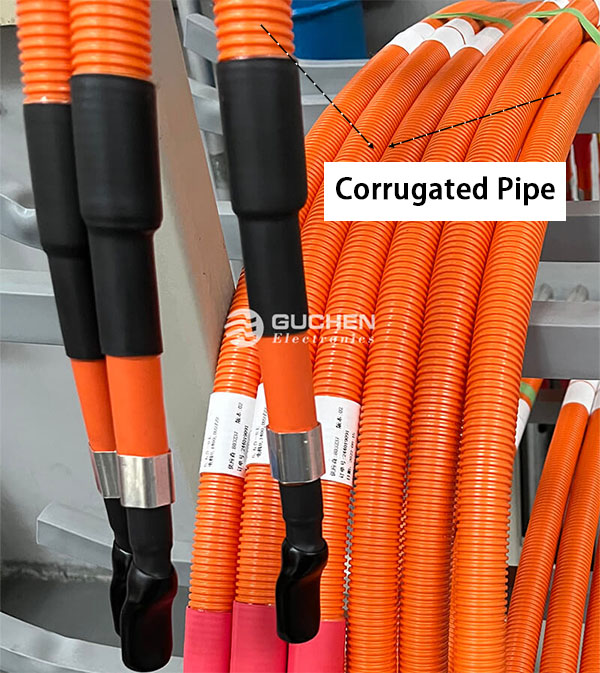 A custom 3-phase inverter wire harness can be designed and manufactured according to your specifications, and we can provide a variety of different types of wire harnesses with different lengths, diameters, insulation materials, connectors and terminations. We offer our customers complete support throughout the entire development process, including creating a design drawing based on your specifications, producing prototype samples and testing them before mass production begins. We also provide long-term technical support for all our products so that you can maintain your production line easily without any downtime or interference from outside sources.
About Guchen Electronics
We are proud to be a leader in the custom wiring harness and wire harness business. Our state-of-the-art manufacturing facility is fully equipped with the latest technology and inspection equipment, and our highly skilled staff works relentlessly to ensure that all of our products meet or exceed customer expectations.
◆ Custom wire harness solutions for your unique project - from simple to complex designs
A custom wire harness solution is the best way to ensure that your electric vehicle is safe and reliable. We start with an open discussion about your project needs (voltage, current, terminal, cross section, shielding, cable length etc.) and goals. Then we use our expertise to create a design that meets your needs and fits within your budget. The
custom wire harness solutions
we provide are perfect for use in a wide range of EV applications, including electric cars, electric buses, electric trucks, electric construction machinery and electric agricultural equipment etc.
◆ High quality components used for all products - ensuring reliability and longevity
The high voltage wiring harness is made up of several different components, including the wiring itself,
high voltage connectors and terminals
. Reliable, high-quality components are used in all our products. Our cables are made of a high-grade copper core and the insulation is made from the best materials available on the market. The outer cover is made from XLPE or silicone rubber, depending on your needs.
If you are interested in our products, please fill in the message form below. Our sales representative will contact you within 24 hours.