9 Most Frequently Asked Questions about EV HV Connectors
1. What does the "coding" mean in electric vehicle connector?
The coding is a method of identifying the type of connector used in electric vehicles. Coding can be done in many ways such as color and number.
Generally, EV connectors are with multiple coding positions. Taking
GC-MC20 circular connector
for example, it has 5 coding numbers: coding A, coding B, coding C, coding D, and coding E. The coding is used to identify other properties of the connector, such as the hole dimension.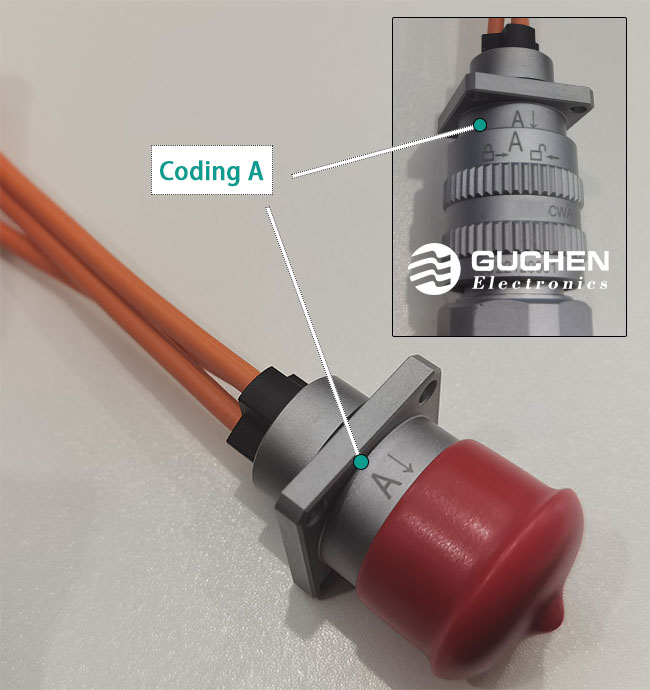 Coding A
What's more, it is an anti-mismating design. Coding prevents misconnections between connector plug and mating socket.
It's important to understand that the term "coding" does not refer to a specific physical feature. Instead, it refers to a set of rules governing how electric vehicle connectors should be designed, manufactured, used, and how all electric vehicle connectors should be wired up.
---
2. What does the pin mean in EV connectors?
The pin refers to the number of signal pins. The high voltage connector has different types of pins, such as 2 pins, 3 pins, 6 pins or 8 pins.
| | |
| --- | --- |
| | |
| 2 pins | 3 pins |
---
3. What is the difference between pass-through connector and metal connector?
◆ With different currents
Pass-through connector
is a high current connector, max 300A current;
Metal connector is 20A low current one.
◆ With different designs
Guchen pass-through connector is divided into 1-way, 2-way and 3-way. It has no quick-disconnet function, connected by OT terminal and screw bolt.
Metal circular connector consists of plug and receptacle, which can be plugged and unplugged as per requirements.
| | |
| --- | --- |
| | |
| Three way pass-through connector | Metal circular connector |
---
4. High voltage interlock in electric vehicles
The HVIL system is designed to detect any failure in the insulation of a high voltage circuit, such as a short circuit or ground fault, and to isolate it from its load before it can cause damage or injury. The system works by monitoring low voltage signals transmitted along wires connected to each phase of the supply. If any one of these wires detects a fault condition, then all three phases are isolated from their loads, thereby preventing damage or injury.
HVIL helps prevent electrical shorts and arcs, which can lead to failure or fire in electric vehicle (EV) or hybrid electric vehicle (HEV) powertrains.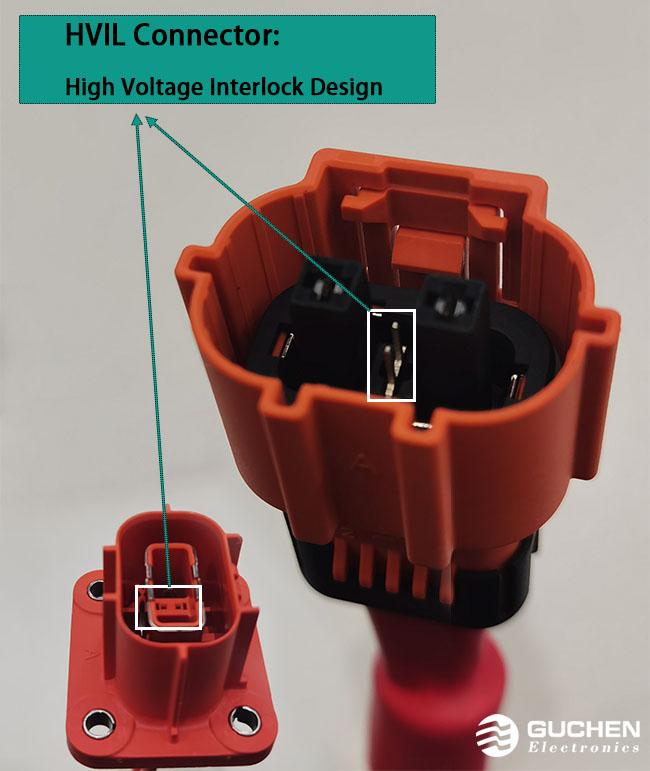 As the high voltage system is being designed for an EV or HEV, it is important to understand the various components of this complex system. These include:
◆ The battery pack - contains cells connected in series and parallel to achieve desired voltage and capacity
◆ High voltage cables - carry energy from the battery pack to motors and power electronics located on the front end of the vehicle
◆ High voltage circuitry - used to control motor operation and charge/discharge state of each cell.
---
5. Is the high-voltage interlocking plastic connector an upgrade?
Automotive high-voltage connectors generally have high-voltage interlocks, the purpose of which is to detect the status of the connector during use. The
HVIL plastic connector
is an upgrade on the metal connector, in order to reduce costs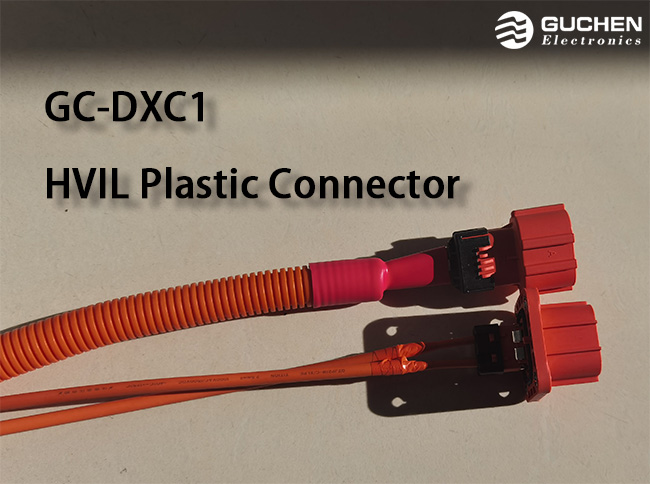 ---
6. What is the shielding function of EV HV connector?
The "shielding" refers to Electromagnetic Interference Shielding.
Connector shielding is to prevent electromagnetic interference. There are shielded and non-shielded connectors, which can be manufactured easily according to customer specifications.
Generally speaking, high-voltage connectors for electric vehicles need to be shielded, and the cables used also need to be shielded cables.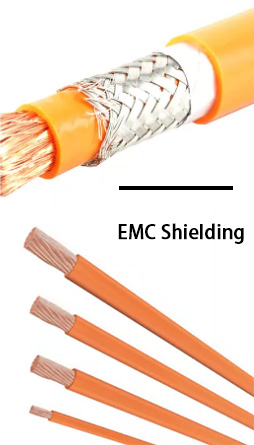 ---
7. Is the secondary locking function available only for specific connectors? Is it an upgrade function?
Generally, the self-locking function will be used in the design process of the connector. The secondary lock is to increase the anti-loosening and anti-vibration design. it is used in the vibration environment to increase the safety design.
---
8. Do plugs and mating sockets have to be used/purchased together?
The socket is the female part of a high voltage connector, while the plug is the male part. The plug should match with the receptacle. A compatible plug and socket combination is able to provide the full safety and performance.
But sometimes they are purchased separately in the market. For example, the controller in Sanden only uses the socket end, while the plug is used
at the wiring harness end
.
---
9. What do terminals refer to?
The terminal, the core of the connector, is the contact part. Machined terminal are generally used for
high current connectors
, stamped terminals for low current connectors and signal connectors.
Tips:
The anti-touch finger protection design is commonly used in high-voltage connector terminals. The main concept of this design is to prevent electric shock accidents caused by accidental finger touch during use.
If you are interested in our products, please fill in the message form below. Our sales representative will contact you within 24 hours.